Category: Snow Updates
Created on Thursday, 13 February 2014
What a tragically bad season to get a Mountain Collective Pass! We've barely had any precipitation at all in California, and the more South you go, the drier it gets. Snow pack was below 33% of normal, which means most mountains would only allow on-piste skiing, and that's tragically bad for crowd control.
The Mountain Collective Pass, if you haven't heard, is the attempt of the non-Vail resorts to band together. Vail owns many of the top ski areas in North America, and they offer a season pass that allows you to ski at all of them. The other ones had nothing similar to offer, and have been coasting on monopolistic revenue for way too long: the snow aficionado could only get a pass to, say, Mammoth or Whistler, and then buy day passes at all the resorts for which a season pass wouldn't be cost-effective.
Under the threat of losing even more business to savvy Vail, six fancy resorts banded together. They are Aspen/Snowmass, Alta/Snowbird, Jackson Hole, Mammoth, Squaw, and Whistler/Blackcomb. The pass cost $349 during pre-season, $379 at the end of it, and became unavailable as soon as snow fell. It gives you two free days at each resort, plus a 50% discount on additional days. It's a really good deal if you don't want to commit to a single resort, and at 50% discount, you can actually go up the mountain even if you are not up for a full day.
Read more: Following the Pineapple Express to Mammoth with a Mountain Collective Pass
Category: Gadgets
Created on Monday, 09 December 2013
Results in
Hilo
:
Ping: 128ms
Download: 2.27 Mb/s
Upload: 0.51 Mb/s
San Diego
:
Ping: 79ms
Download: 1.35 Mb/s
Upload: 0.79 Mb/s
My annual pilgrimage to Hilo used to be fueled by a Verizon 4G MiFi. But it made really no sense to have a $50 a month plan that I'd use only in emergencies and when I was on the islands. So I gave that up and have been looking for a replacement.
When I landed, I had a plan. My primary connection would be the hotel Internet, augmented by the T-Mobile connection on the Nexus 5. Android KitKat has mobile hotspot built-in, and things would have worked swell b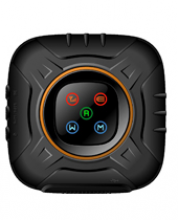 oth at the hotel and on the go.
Turns out the Internet at the hotel (the Wild Ginger Inn) is incredibly flaky. Every ten minutes or so, the connection resets and it takes a while to renegotiate. The phone turns out to be no better, as Hilo is served by the T-Mobile EDGE network and not the zippy LTE. To make things worse, when I tried to use the phone in mobile hotspot mode at the (LTE-enabled) Honolulu airport, the provisioning page refused to load.
When I drove to Walmart to buy the usual necessities you can't take with you on the plane (like the oh-so-dangerous terrorist mouthwash, or the frighteningly terrorist toothpaste), I stopped at their Electronics department, and they had this device for sale. It promised Verizon network with Walmart prices. Nice! (They also had a 4G Verizon prepaid, but that one requires a subscription).
The economics of the device are simple. You buy the gadget for $80. Then, when you need Internet, you buy data by the GB. 1GB sets you back $15, 2 is $25, etc. You have to use up the data within a specified time limit (up to 2G in 30 days, above that in 60 days), but you can buy as much as you like - and as little. If you don't use the thing, you just don't buy gigabytes and you are good. Your only long-term investment is in the device.
Sadly, provisioning was a real pain. I unpacked and charged, and was surprised to find tons of manuals in the box. After all, all I needed to do was connect to the thing, tell it the PIN on the card I bought, and off I should have been able to go.
Read more: Living With the Puck: StraightTalk Unimax U240C Reviewed
Category: L'America
Created on Monday, 02 December 2013
With the holiday behind us, I got my usual load of questions about Thanksgiving. What is it, why is it such a big deal, and what does it look like?
To give you an idea of what it feels like to an outsider, I'll tell you the story of my first Thanksgiving after moving to America. There was one before that, but it was a coincidental Thanksgiving while vacationing in Hawaii, so that doesn't really count.
My first real Thanksgiving was in Portland, OR. I had moved in June, so I was still very fresh to American culture. Thanksgiving meant little more to me that a holiday in the middle of the week, and strangely it seemed that everybody in the office had stopped working for real on Wednesday. Many would not show up on Friday, which is something I knew very well from Italy, where it is called ponte, or "bridge" (from holiday to weekend).
On the day itself, I had already heard the supermarkets were going to close early (actually, at all, since most of them are always open). I went to one and decided to get a frozen dinner. And since it was Thanksgiving, I would honor the tradition of my new home country by eating a frozen turkey dinner. They came with mashed potatoes and side of veggies (which I still pronounced "vegghies").
Category: Howto
Created on Saturday, 23 November 2013
KSnapshot is the best of programs, and KSnapshot is the worst of programs.
First of all, KSnapshot is a terribly nifty utility that takes screenshots of the current screen. It's very flexible and allows you to grab the whole screen, a single window on the screen, an area of a window, a random rectangle on the screen, or even some weird shape that you draw on the screen. It's got tons of opportunities for you to record what's going on.
Also, it is very powerful in what you can do with the grabbed stuff: you can save it in a variety of formats, you can send it on to some other application (for instance, email or photo editing). But wait! There is more! You can request a delay, so you can arrange the screen just the way you want (for instance, if you want to grab a video still); you can have or remove window decorations; and you can or may not include the mouse, if it happens to be where you are grabbing.
To top it all off, KSnapshot is integrated into the default desktop. When you hit the Print Screen key, it pops up, with a grab of the screen (minus KSnapshot) already in it. Save it, and you are done!
Sadly, KSnapshots also has a series of stupid quirks that are largely unexplained. What's quirky is that the functionality is there, it's just unreachable.
Read more: Fixing KSnapshot Quirks - and Programming the Linux Shell in the Process
Category: L'America
Created on Friday, 22 November 2013
If you are confused about the changes to the filibuster rules in the United States Senate, read on!
Hooray! There is something new to explain! You have all heard about this Nuclear Option that Senate Majority Leader (Democratic) Harry Reid pushed through, and you don't understand what it's about, what's going on, and why it's a big deal.
I am not a Constitutional expert by any means, but I've been following this for a long time and here is my (potentially totally misleading and confusing) recap:
What Is the United States Senate?
OK, I'll start at the basics. The United States Constitution provides for a bicameral system. There is a "lower" house, which is called House of Representatives. Its members represents geographical districts with roughly equal population, such that its composition is more or less representative of the general voting populace.
The "upper" house is called the Senate. It is composed of two members per State, called senators. While the two houses are completely different in composition, they have roughly equal powers. The only real difference is that the lower house (or just, the House) has exclusive rights to start fiscal legislation, and the upper house (or, the Senate) theoretically advises the President and his/her Administration.
This advising function ends up meaning that the Senate is required to confirm many of the President's choices. This includes treaties, but also nominations to important functions in government (including the cabinet) and Federal Court appointments, including the Supreme Court.
What Is the Filibuster?
The senators bring forth motions and bills to the floor. These are discussed as long as required. When the senators are satisfied that the discussion is completed, they vote to end discussion and proceed with a vote. The procedural motion to close discussion is called "cloture."
Read more: L'America: What's the Nuclear Option in the Senate